Zack Snyder's Justice League Wins Oscars Most Cheer-Worthy Moment Award
Posted by Batfleck Forever on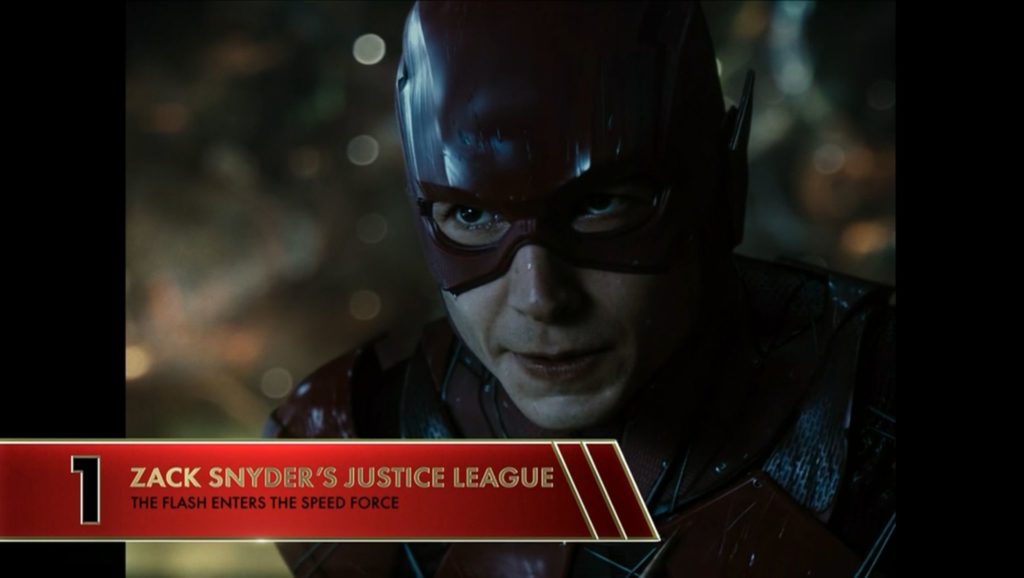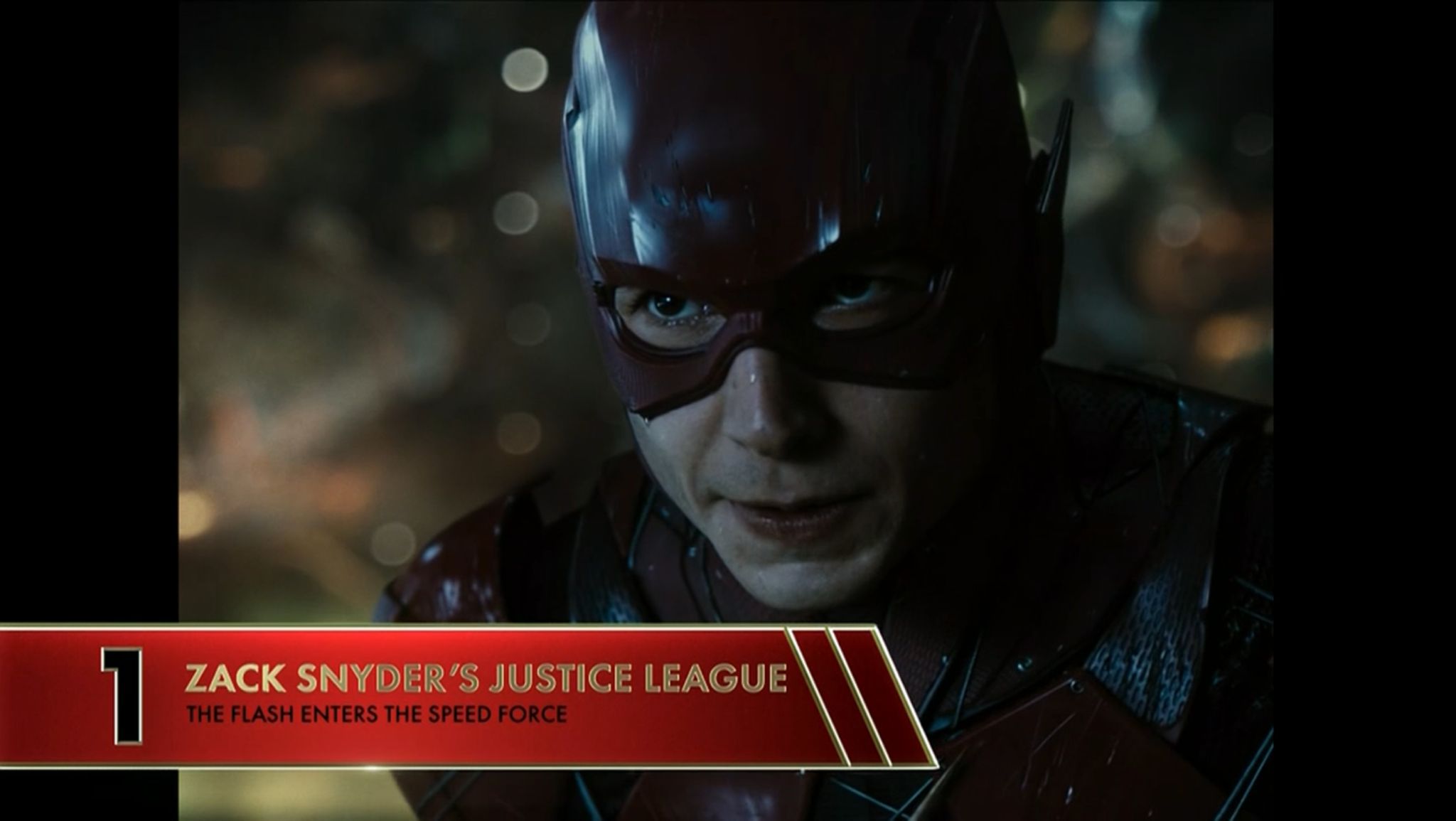 This year the Oscars introduced a new award for "Most Cheer-Worthy Moment" that fans could vote for online. The choices were:
Spider-Man Team Up (Spider-Man: No Way Home)
Neo Dodging Bullets (The Matrix)
"And I'm Telling You" (Dreamgirls)
Avengers Assemble (Avengers: Endgame)
Flash Speed Force (Zack Snyder's Justice League)
Now honestly, while it was cool that ZSJL was included, I figured it was a shoe-in for Avengers: Endgame to win – and if not that then definitely Spider-Man: No Way Home. Well, the Snyderverse fandom proved to be greater than we even imagined because The Flash Entering The Speed Force sceen placed #1.
It's especially ironic because it's one of the scenes WB demanded be cut from the theatrical version because they didn't understand it. If you don't understand one of Flash's main abilities then maybe you shouldn't be making the decisions about what goes in DC films. This was one of the greatest scenes in DC history and finally showed off the power level of The Flash.
The whole thing is especially funny because these Fan Favorite awards began as a new category added to the Oscars years ago in an obvious attempt to give a Marvel film an Oscar. It was called the Academy Award for Outstanding Achievement in Popular Film then and the expected winner was Black Panther. However, the announcement of this award was not well received and so the Academy decided to re-evaluate how to re-introduce it. The result was the Oscars Fan Favorite and Most Cheer-Worthy Moment awards seen this year.
In the leadup to the show, Variety reported that Spider-Man: No Way Home was the favorite to win. Well, not only did The Flash scene win Most Cheer-Worthy Moment, ANOTHER Zack Snyder film, "Army of the Dead", won the Oscars Fan Favorite award as well.
For those thinking it must have been bots, the Oscars took measures to prevent this and filtered out any bot entries.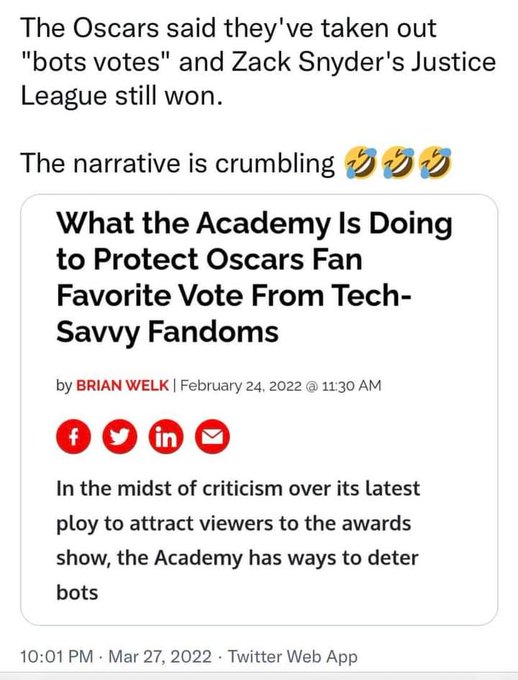 Zack still won. Twice.
Zack and Debbie reacted to the news over on Vero: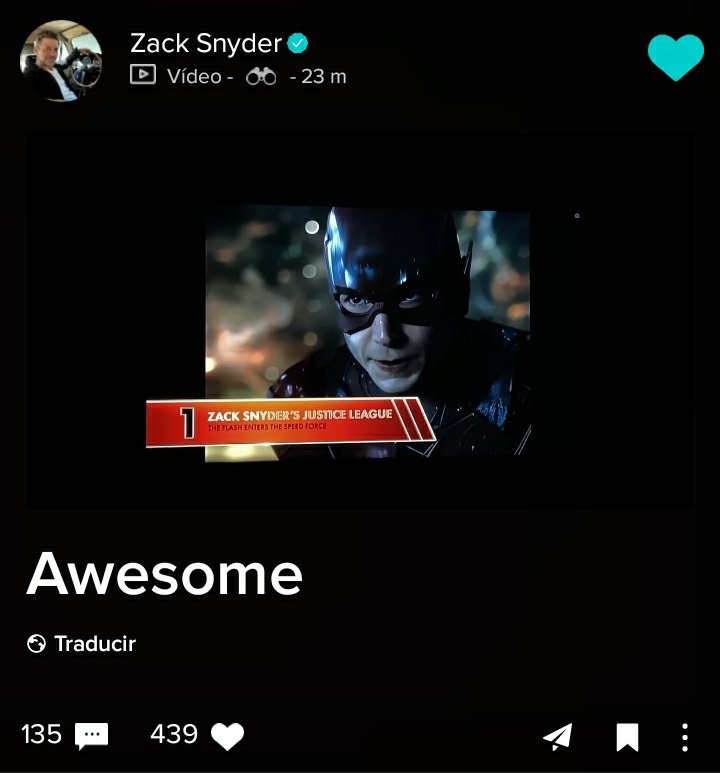 At the end of the day I don't really think these awards mean much – fan picked or Academy picked. Tons of great movies would never even be considered for Oscars. But they do mean something to the talented people being recognized and they can draw attention to things, so this certainly doesn't hurt in the quest to get the Snyderverse restored.
Speaking of which, fans also commissioned a plane to fly over the Oscars with a #RestoreTheSnyderverse message which can be seen here: